The digital industry is fast. Users only take four seconds to decide whether your website and services are worth their time. Unfortunately, many companies lose potential customers because they didn't think to optimize their platforms to accommodate such a small time window.
These companies need a vendor that understands this reality and operates with a mindset focused on that window. Fortunately, Alfatek Digital has built a team with that same focus and drive to ensure their work produces positive results quickly.
We only needed a reliable way of spreading awareness about our services and raising our profile in the industry. We decided to create a vendor profile on the review platform Clutch. Reviews have always had significant power in the status of a company. There are numerous times when a business sank or rose depending on what was said about them.
This is why we're quite pleased to report all of our reviews so far have five-star ratings.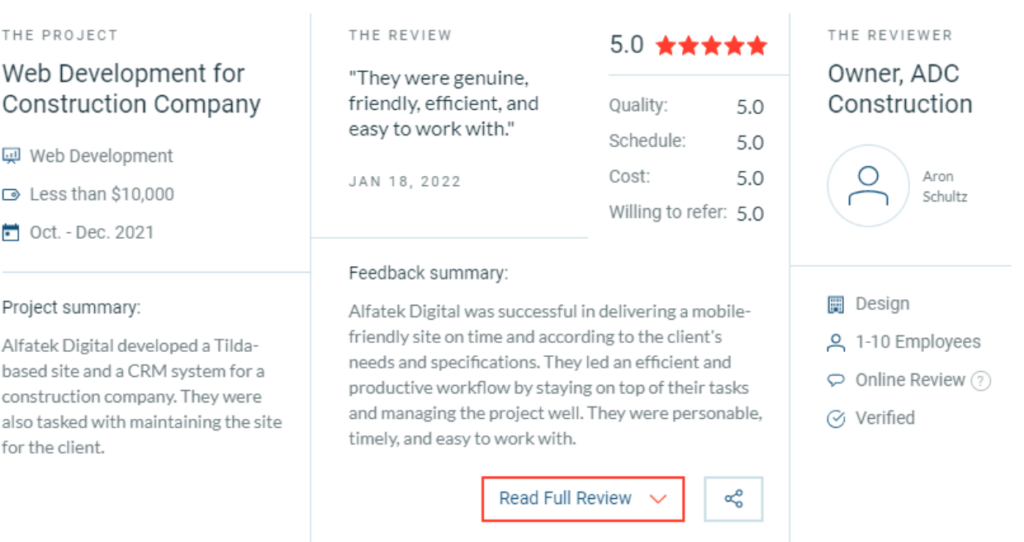 In addition to publishing reviews, Clutch is a B2B platform that helps vendors reach their intended audience by creating rankings of top-performers in every industry. Alfatek Digital was recently included in their top SEO companies list.
This is a great development for our team. It significantly boosts our chances of being found by potential clients just by having an additional authoritative page with a link to our website. Our placement on a ranking also communicates the quality of our services to users in a quick and effective manner.
Our team fully intends to leverage these new realities to our advantage. But even with additional tools at our disposal, we recognize the work we have to put in to reach the peak of the SEO industry. This is a challenge our team fully relishes and look forward to meeting.
We are confident our team already possess the skills, knowledge, and experience to achieve this feat very soon. All we require is the opportunity to meet more companies who need our services and impress them just like what we've done on countless occasions already.
Learn more about the services we offer and how they can further improve your operations by visiting our website. For any questions or inquiries we recommend getting in touch with our team directly through phone, email, or our form. We look forward to creating something great and remarkable with you soon.